Setup A No-Obligation POOL and Give it a Test Drive!


SETUP YOUR CONTEST



Run Your Own March Madness Contest Online!
Manage your March Madness Bracket Pool contest with us. Get in on the excitement of this year's Mens NCAA Basketball Tournament with Unparalled Features and Automated Results.

THREE GREAT WAYS TO PLAY



1) BASIC 64 PLAY: By far the most popular way to play in which each entrant fills in their complete bracket all the way to the championship game. The brackets are due before the first tipoff on the opening Thursday games. Site administrator can enter brackets in after the deadline by using the ADMIN tools to enter them.

2) SPLIT BRACKETS: This game, created by popular demand is a 2 part entry. As with the previous game, enter your brackets, but only enter the first 2 rounds (first 48 games or opening weekend games). Then when the first week is complete, you fill in the entry for the rest of the tournament (last 15 games) all the way to the championship game. The matchups to choose from for this will be from the actual basketball winners (and not your correct or missed choices from the previous round). The fun of this game allows those who did not do so well in the first part, to be competitive and fare well in part 2.

3) SWEET SIXTEEN: A separate contest altogether from the BASIC 64, it engages your entrants for a second time to compete for new prize. Entry for this contest does not begin until the first weekend of play is complete. This is FREE to use with your basic registration, although cannot be used in conjunction with SPLIT BRACKETS game (only BASIC 64)



THANK YOU FOR RENEWING YOUR FANTASY LEAGUE.
THIS CONTEST SOFTWARE IS FREE FOR YOUR USE.

FEATURES:
Point/Click Bracket Entry
Sizes to all devices: Phone, Tablet, PC
Up to 400 Entrants/One Low Price
Automated Results Calculation
Live Games Ticker
Email results to your entrants
Playin Games in bracket of 64
(Entry acceptance until Thu)
FREE Sweet Sixteen Pool Contest
No Banner Ads or Registrations
Printable Brackets/Entries
Track Monies Paid
Multiple Result Options (20+) Including:
• Region Report
• Round Report
• Underdog Report
• Teams Left Report
• NCAA Results
• Choice Compilations
EASY POOL ENTRY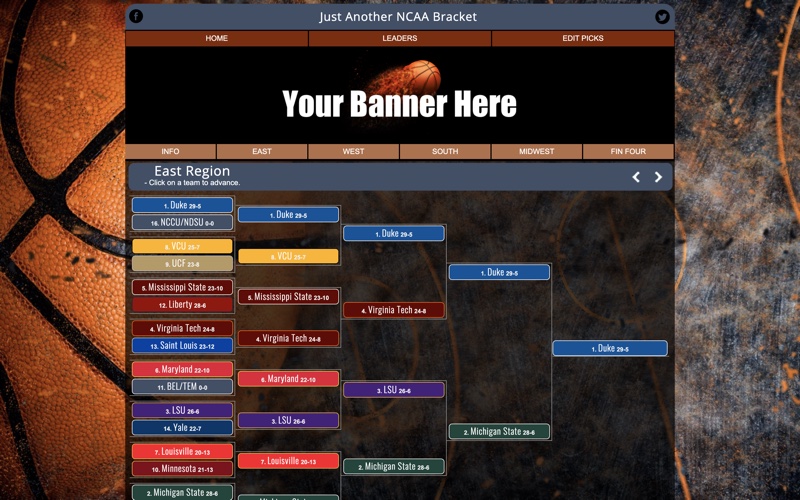 Point and click to make your picks. Advance teams all the way to the final game.

LEADERBOARD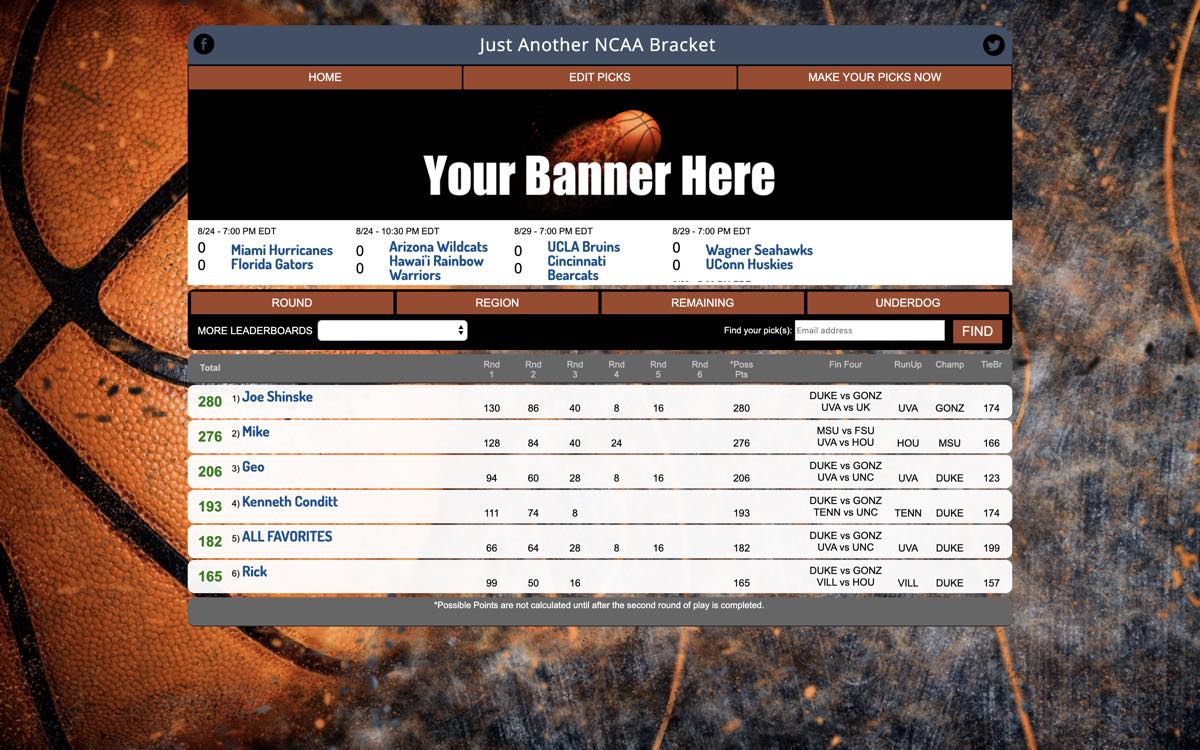 Many way to view and analyze the results of your contest.
Setup A No-Obligation POOL and Give it a Test Drive!
SETUP YOUR CONTEST